Shaganappi is a vibrant neighborhood offering beautiful properties located in SW Calgary. It is known for its diverse community, rich history, and beautiful parks. The neighborhood offers a unique blend of urban and suburban living - from its busy commercial areas to its tranquil green spaces, we will take a closer look at what makes Shaganappi such a special community in Calgary.
Shaganappi is a neighborhood with a rich history, dating back to the early 1900s. The name "Shaganappi" comes from the Cree word "sâkânâpiy" meaning "rawhide." The area became home to the Shaganappi Golf Course, which was a popular destination for golf enthusiasts from across the city. Over time, the existing golf course county was transformed into an exciting residential community, which has since become one of Calgary's most sought-after neighborhoods.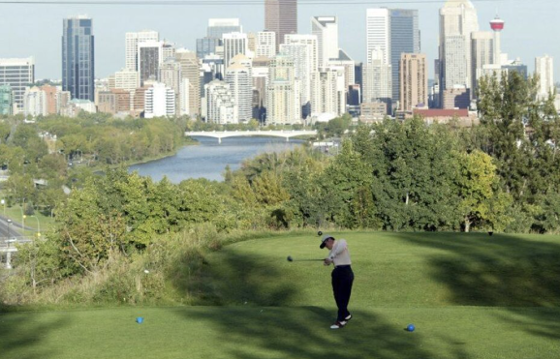 Via golfpass.com
Shaganappi is a primarily residential neighborhood, with a mix of single-family homes, townhouses, and condominiums. The community offers a diverse range of housing options, from oversized spacious family homes to modern trendy urban apartments. Shaganappi has become a popular destination for homebuyers due to its prime location and ample green space. Shaganappi is just a short drive from Downtown Calgary, and the community is bordered by Bow Trail to the north, 17th Avenue to the south, Crowchild Trail to the east, and 37th Street to the west making it extremely accessible.
Shaganappi has a busy commercial area along 17th Avenue, and is in proximity to Westbrook Mall - offering residents a wide range of restaurants, cafes, boutiques, and professional services. In addition, the community is home to the Shaganappi Point Golf Course, as mentioned, which provides residents with a beautiful green space to enjoy along with the several parks, including Shaganappi Park and Edworthy Park, which offer plenty of opportunities for outdoor recreation, as well as K-6 public school Alexander Ferguson.
In conclusion, Shaganappi is a vibrant community with a rich history and plenty of conveniences. With its mix of residential and commercial areas, ample green space, and prime location, it is no wonder why so many people are attracted to this lively neighborhood. Whether you are looking for a place to call home or simply want to explore all that Calgary has to offer, Shaganappi is definitely worth checking out.